Acid Slurry Labsa - 90%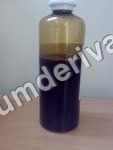 Acid Slurry Labsa - 90%
Product Description
Manufacturer and supplier of Acid Slurry ( Labsa). Also offering Sodium Hexametaphosphate, Sodium metasilicate ( 5H2O, 9H2O, Anhydrous), Sodium Tripoly Phosphate, Sodium Sulphate, Sodium Bicarbonate. Etc detergents chemicals ..
ACID SLURRY-90%
Characteristic

Specifications

Appearance

Clear yellowish honey brown slurry

LABSA Contents

%

90 + 1

Min.

Acid Value (As KOH)

mg/gm

220 to 240

-

Free LAB (NDOM)

%

1.5

Max.

Free Acid as H2So4

%

7.0

Max.

Color (10% Alc. Sol.)

Kletts

30

Max.

Filed Of Application

Detergents cake, powder
Liquid formulations
Toilet soap for foaming
In pesticides to improve the quality of spray
Packing

30 kg, 50 kg HM-HDPE carboys
250 kg HM-HDPE Barrels
Dedicated SS tankers
Safety / Precaution
Keep away from heat and water. Avoid inhalation. Use with adequate ventilation.

Storage
Store in a cool, dry, well ventilated area, away from heat, moisture, source of ignition and strong alkaline material.